All-on-4 Dental Implants Temecula
Your Expert Source for All-on-4 Dental Implants at Legacy Dental of Temecula.
Transform Your Smile with All-on-4 Dental Implants Temecula
Are you seeking a solution for failing teeth or struggling with loose dentures? Explore the transformative benefits of All-on-4 dental implants at Legacy Dental Temecula, your trusted source for All-on-4 dental implants in Temecula. Our dental implant team combines expertise and advanced techniques to rejuvenate your smile and boost your confidence.
Understanding All-on-4 Dental Implants
All-on-4 dental implants, often called "teeth-in-a-day," represent a groundbreaking approach to smile restoration. This innovative procedure involves the placement of just 4 or 5 All-on-4 dental implants per arch, enabling the replacement of all failing or decayed teeth while delivering a permanent bridge—all accomplished in a single day. The healing process after the implant placement is carefully monitored to ensure optimal results.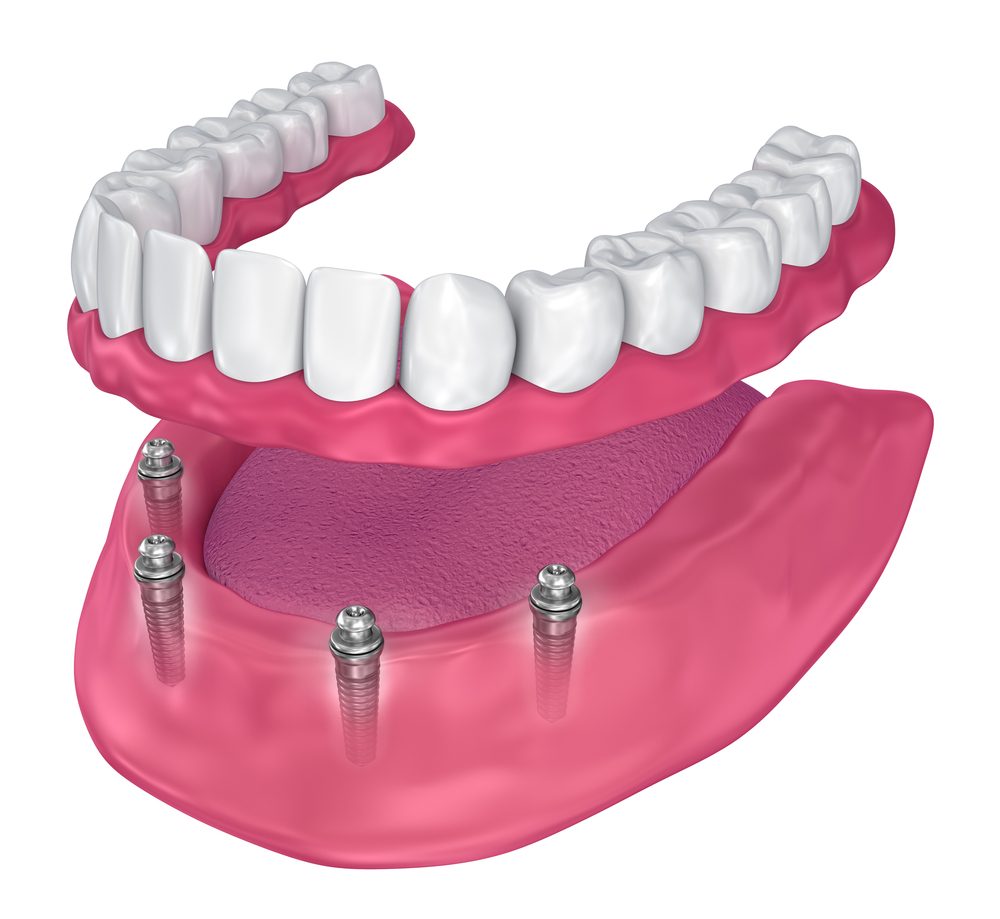 The All-on-4 Procedure in Two Stages
The All-on-4 treatment plan typically unfolds in two distinct stages:
Stage

Removal of all faulty teeth from the jaw.
Placement of 4-6 implants per arch into the jawbone.
A temporary dental bridge (comprising 12-14 teeth) is attached to the implants.

Stage 2 (3-6 months later):

Crafting and attachment of a new permanent dental bridge, replacing the temporary one.
Enhancing teeth functionality and aesthetics
Duration of the All-on-4 Procedure
While often touted as "teeth-in-a-day," the comprehensive All-on-4 procedure extends over several months. The initial stage is roughly 3-4 hours. Then, your return visit for the placement of the permanent bridge is scheduled once the implants have fully integrated into the bone and you are fully healed.
Pain Management with All-on-4
Patients usually have mild to moderate discomfort during and after the procedure. To alleviate discomfort, we recommend a regimen of ibuprofen or other anti-inflammatory medications for 3-5 days post-treatment. Swelling and bruising typically subside around the fourth day. Rest assured, we offer diverse anesthesia options to ensure your comfort during dental implant surgery.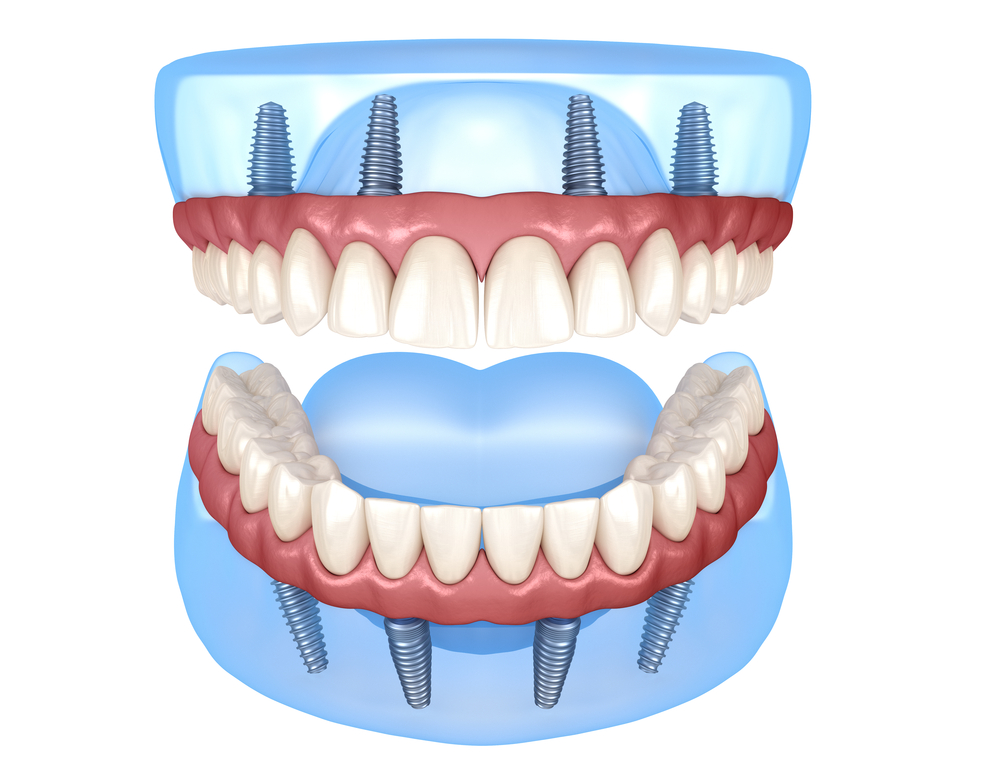 Determining Eligibility for All-on-4 Dental Implants in Temecula
If you have no teeth or multiple missing teeth, suffer from periodontal disease, experience extremely loose teeth, or are simply concerned about oral health, you may be an ideal candidate for the All-on-4 procedure. To ascertain if this solution aligns with your needs, schedule a consultation with us, your premier source for All-on-4 dental implants in Temecula. We'll conduct a comprehensive review of your dental history.
What are the advantages of choosing All-on-4 Dental Implants at Legacy Dental Temecula?
Restored Functionality: All-on-4 implants allow you to enjoy eating without restrictions, offering robust chewing capabilities rivaling natural teeth.
Enhanced Aesthetics: Our customized artificial teeth are designed to match your facial features, providing a confidence boost and a natural appearance.
Longevity and Endurance: With proper care and routine dental check-ups, these implants are designed to endure a lifetime.
Ease of Maintenance: Say goodbye to special cleaning solutions or adhesives—maintaining All-on-4 implants is simple, similar to caring for natural teeth. This comprehensive dental solution improves your oral health and offers a transformative experience, enhancing your overall quality of life.
Your Trusted Partner in All-on-4 Temecula
Legacy Dental Temecula is dedicated to providing you with top-notch dental care and All-on-4 dental implants performed by our skilled oral surgeon. Our team is committed to your comfort, safety, and satisfaction as we guide you toward a revitalized smile. Contact us today to schedule your free consultation in Temecula and surrounding areas. Your journey to a new smile begins here, with the top choice for All-on-4 dental implants in Temecula!
All-On-4 Dental Implant FAQs
After getting the All-on-4 dental implants, expect some light bleeding and mild discomfort for a few hours. Swelling, puffiness, and bruising are normal but should disappear in a few days. You'll be told to eat soft foods for three months and take antibiotics for one to two weeks after the procedure.
All-on-4 implants are designed to be permanent and non-removable. With the right care and oral hygiene, they can last a lifetime. Routine check-ups and maintenance are essential to ensure their long-term success.
We offer solutions such as bone grafting for patients with concerns about bone density or bone loss. Additionally, our team can address gum disease and explore the most suitable treatment options.
Full-mouth dental implants replace missing teeth and offer a more stable and functional alternative to traditional dentures. Unlike removable dentures, All-on-4 implants don't require adhesives and provide a secure fit. This advanced dental treatment is designed for a long-term solution to tooth loss, preserving bone density, preventing bone loss, and enhancing oral health. The immediate results and speedy healing process make it an attractive choice.
The procedure involves strategically placing four titanium posts in the upper or lower jawbone to serve as implants supporting a full arch of prosthetic teeth. These implants are built to last a lifetime with good care and regular dental check-ups. This customized approach ensures each patient's natural and comfortable fit, preserving bone density and preventing bone loss. 
All-on-4 Dental Implants help maintain the integrity of your remaining teeth and facial structure. Additionally, this innovative technique eliminates the inconvenience of adhesives and special cleaning solutions. With the "teeth in a day" procedure, you can walk out with a renewed smile and confidence in a single visit. At the same time, the healing process continues in the background.
Many patients can experience the immediate results of All-on-4 implants in a single day, including the placement of posts and new teeth. This means you can leave Legacy Dental Temecula with a renewed smile and confidence after just one visit. This swift process minimizes any disruptions to your daily life, providing the convenience of a "teeth in a day" procedure.
Yes, Legacy Dental Temecula understands the importance of accessibility for implant patients. We provide various financing options and work with multiple insurance plans to ensure our high-quality dental solutions, including All-on-4 treatment, are available to all. We prioritize your well-being and satisfaction, offering a comprehensive dental treatment that combines advanced technology and efficient procedures. This approach ensures comfort and provides a long-term solution for oral health and full-mouth dental restoration.